Summer time means a much-needed escape to the beach, and with that, we get to finally catch up on all the books we've been meaning to read.
Here's a few of the books we're reading this summer:
Building a StoryBrand by Donald Miller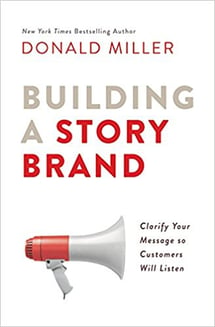 If you're a marketer in the B2B space, this book NEEDS to be on your summer reading list. In marketing, we tend to overthink things, and Donald Miller offers a to-the-point instruction guide on how to create a story around your brand that gets customers to take action.
He explains his SB7 Framework to answer the same questions authors, screenwriters and successful brands use to command attention and interest in books, film and life.
We're such believers in this process that we are currently going through a website redesign for ourselves, and using the guiding principles from this book to completely renovate our site.
Who Gets What–and Why by Alvin E. Roth

A tiny leap away from marketing, Who Gets What and Why is a book focused on understanding markets and economics. As a marketer, you know that marketing affects every department at your company and brands both affect and are affected by economics.
This is a great read if you've had enough of the marketing-marketing-marketing books and the this-is-how-to-be-an-entrepreneur and-eat-the-world-for-breakfast-lunch-and-dinner books.
Who Gets What and Why sheds insightful light on how markets work and why people may be (or are totally not) interested in what it is you're selling. Much more interesting than a college economic course and just enough of a fresh perspective on marketing that may spark new, innovative ideas for your company.
The Power of Habit by Charles Duhigg

This one is an oldie, but a goodie. Mostly focused on understanding your personal habits, how to break them and replace them with better habits, one key marketing message emerged from this book for us. Who (under the age of 70) would have thought that Americans haven't always brushed their teeth?!
It wasn't until Claude Hopkins in the early 1900s came up with the idea for a frothy, minty paste for cleaning teeth. His idea sparked a national movement that got Americans to start brushing their teeth by leveraging the neurology–and psychology–of habits.
Charles Duhigg explains the three components of a habit: the cue, the routine, and the reward. In the case of toothpaste, adding "froth" to toothpaste gave people a satisfactory "reward" and thus changed people's habits into the expected norm we all know today.
First, Break All The Rules by Marcus Buckingham

This management book takes a data-focused approach to get at the heart of what sets the best managers apart from the rest.
Uncovered through a series of in-depth Gallup surveys, the authors discover that what we thought was conventional wisdom is not-so-much the case. For example, those perks that you give to attract the best employees could actually be the things that retain the employees who will never give you their all.
While this one isn't all-things-marketing, it's a great foundational leadership book that will have you taking a close look at some key questions to determine whether or not your best employees are with you for the long-haul of if they'll be out the door in no time.
Killing Marketing by Joe Pulizzi & Robert Rose

Written by the the King of Content Marketing World, Joe Pulizzi, and marketing guru Robert Rose, this book addresses one key question: "What if everything we currently know about marketing is what is holding us back?"
Throughout the course of the book, they use some key examples of how traditional companies are turning into their own media houses, and creating a slew of meaningful content for their unique audiences.
In order to build a market today, you have to build a loyal and trusting audience. And this book dives right into how to make that transformation in your own marketing department.
Want to read something shorter?
If you don't have time to sit down with a hardbound book this summer, but still want to stay in-the-know…check out one of our sweet Kiwi guides! Sales enablement isn't a new concept, but its gaining a renewed focused in the marketing world. Download our Complete Sales Enablement Guide for B2B Tech Companies now.