As we approach the new year, what better time to dive into a topic that's shifting the way we think about marketing as a whole.
Jacob Carlson, Principal Channel Account Manager at HubSpot, flew in from Boston to headline this month's TechConnect meetup.
Gone are the days of a linear sales and marketing funnel. A customer's journey no longer ends after the first purchase, so tech organizations need to redefine "closing a deal" as "opening a relationship."
The result? A marketer's secret weapon for growth: happy customers willing to provide word-of-mouth referrals, which is still the #1 source of information when making purchase decisions for business software.
But before diving into what's new in marketing, here's the really quick history.
Before the internet, we'd ask friends for recommendations.
Then came the internet, which gave everyone access to information.
Then, enter inbound marketing; Brands understood that to be found, they had to provide helpful content.
The traditional marketing/sales funnel told that story; get lots of prospects into the top of the funnel, nurture them thru the funnel, turn them into customers, and voila; all done. Right? Not so fast.
There's a fundamental problem with this model.
Customer service wasn't part of the conversation.
And when you ask people where their new customers come from, more often than not, referrals are part of the conversation.
It makes sense; happy customers will tell people, and you'll gain new customers from those referrals.
The traditional sales and marketing funnel spits out customers; essentially making customers an output of the process.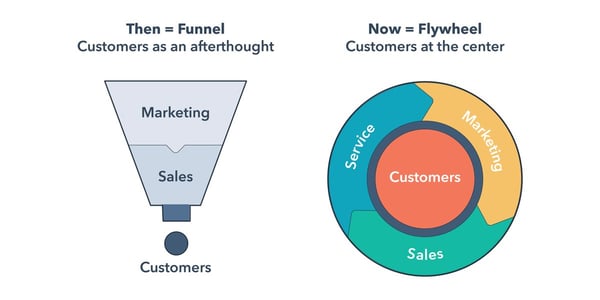 In the flywheel model, customers are no longer an output, but instead, they are literally at the core of the model.
What's in the new flywheel?
At the center of the flywheel is customers. In everything we do as a brand or organization, it is important to think about customers first.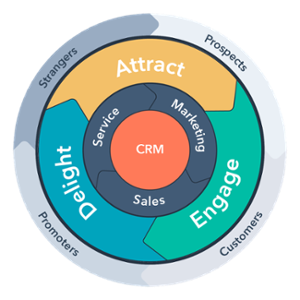 Marketing, or the top of the funnel, still plays an important role. You'll see in the flywheel that the "attract" phase overlaps with both service and marketing.
Sales, or nurturing leads thru the funnel, is also familiar. Within the marketing and sales stages, that is when you start to "engage" prospects and turn them into customers.
New to the model is customer service, or making sure that you "delight" your customers. You'll see that you can begin to delight your customers, even within the sales cycle.
To make the flywheel "spin," or in other words, to continuously make the flywheel work for you, it's important to reduce friction wherever possible.
If you're making it difficult to purhcase, or if your customer service is less-than-excellent, that's an example of friction.
How companies implement the flywheel model
As a result of this customer-first mindset, companies naturally evolve. Jumping from video rental stores, to Netflix DVDs, to the Netflix we experience today.
It changes the very foundation of how companies are structured.
In the past, companies were available 9-5. Today, the best brands are available 24/7.
In the past, you had to plug in your credit card for a free trial. Today, the best brands offer free (no credit card required) trials, and are super quick and easy to start.
In the past, products were one-size-fits-all. Today, personalized experiences are the expectation.
Engage however. Engage whenever. Anticipate needs.
It used to be that the term "omnichannel" was buzzy and out of sight. But in 2018, brands don't have the luxury of not being omnichannel.
At its core, omnichannel is about providing a consistent communication journey where the conversation history and context travel from channel to channel.
We're all guilty of it—when you have a question, you expect to find an answer directly. And if the answer isn't readily accessible, you expect brands to answer questions quickly.
That's why, as brands, it's important to engage where your prospect want, when they want. And best yet—anticipate needs wherever possible.
How HubSpot is practicing what they preach:
To turn customers into lead-generating machines, HubSpot has shifted some dollars from marketing into the customer experience.
As an important part of the flywheel, customer service now has a quota. Net Promoter Scores, or NPS, now plays an important role in measuring success.
To address the change, senior leadership immersed themselves in the departments most affected, sometimes even working on the ground level for months.
Be adaptable. Be available. Be authentic.
By viewing this process as a flywheel vs. a funnel, your tech company can break down the silos between marketing, sales and service to provide a truly customer-centric experience.
While the traditional flywheel model depicts customers as an afterthought or an output of the process, the best marketers knew that was never really the case.
And that's why the new flywheel model works so well… it's what we've always thought; now, we have a model that accurately tells that story.
When change is the constant, the customer is the compass.
A big thank you to our sponsor, Improving. And thank you to North Coast College for hosting today's event.


Join us next time
Building a Top-Notch Tech Marketing Department as an Army of One
Tuesday, February 12, 2019
TalentLaunchIndependence, OHTech companies run lean n' mean, so often times marketing is a small department. If your organization is struggling with how to get meaningful marketing results because of limited internal resources—or if you're looking to scale up your small marketing department—you're not alone.Hear from a SaaS marketing veteran who has successfully built a marketing department of one…and how you can, too!
Save the Date
In-House Video Production Tips for Tech Marketers
Tuesday, April 9, 2019