There are lots of marketing meetup groups in the Cleveland area, but there's only one focused solely on the unique needs of the software and tech industry.
TechConnect is new to town and already gaining the attention of local tech marketers.
Instead of talking about international B2C brands with million-dollar budgets, TechConnect's events revolve around the real-life challenges and opportunities of marketing a tech company out of Cleveland, Ohio.
The first event featured Bill Myers from New Territory to talk about how tech companies can easily get started implementing virtual reality and augmented reality in their marketing initiatives.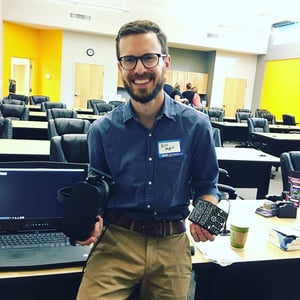 While the concept of AR/VR is still a concept as futuristic as Star Trek for some, Bill highlighted lots of examples of companies actively using the technology today.
Virtual reality allows for a more immersive experience than augmented reality, but it can be more limiting for marketers since users have to wear a headset. And that can make it difficult at events like trade shows when you want to make an impact and share the experience with a crowd.
On the other hand, augmented reality can be experienced by multiple people without the use of a headset. AR is often experienced through a screen, like holding up a cell phone to see the AR elements as they relate to the "real-world" on the other side of the screen.
How tech companies can use virtual reality
There are a TON of virtual reality headsets on the market and the price points are all over the board.
VR is a great way to let users dive into and really feel like part of an experience. You could let your users virtually "walk" into room that showcases your product offering, or you could let them dive into the product itself. The possibilities are endless. Bill highlighted Microsoft Layout, which is a recent innovation that enables users to layout an area and visualize it in real time using VR.
For tech companies looking to get started with VR, Bill recommended the Richoh Thetah V ($300) paired with the Merge Mobile VR Headset that you can pick up at Walmart for less than $30.
How tech companies can use augmented reality
You may be surprised to learn that AR is now totally mainstream. We're using AR everytime we add a pretty crown to our head of floating butterflies in Snapchat, or when we go searching for Pokemons in the Pokemon Go app.
But it goes beyond fun and games… AR is being used today by big names like DHL to quickly scan orders and pick packages. Its growing in popularity, especially in manufacturing where it can help those on the line be pick products faster and more productive.
Tech companies can get started with AR today by buying a pair of smart glasses such as Glass by X, previously known as Google Glass.
Probably the easiest way to get started with AR is with the Merge Cube, which at first glance, looks like nothing more than simple block of foam. However, with the Merge Cube, you can give the illusion of holding something completely different in your hand. For less than $20, you can upload a 3D drawing to the viewer app to get started experiencing AR today. Take the merge cube to a trade show or to a prospect meeting to let users "hold" and experience your product first-hand.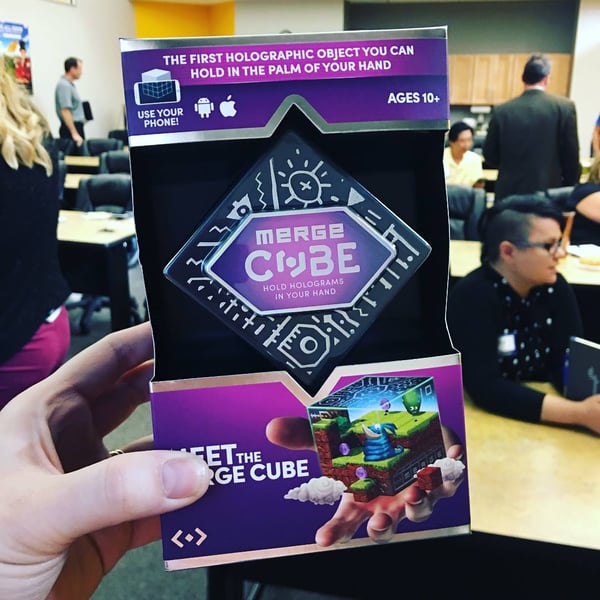 Mark your calendar: Tuesday, October 9
TechConnect plans to hold a meetup every other month. The next event is October 9 at 7:30 a.m. and features a topic admittedly a little less fun than VR/AR, but presumably more business-critical for local tech marketers: "The State of Tech Marketing After GDPR."
GDPR pandemonium has caused a lot of stress and confusion for tech marketers. How compliant does your organization need to be, even if you don't do business in the EU? Sharon Toerek, Principal of Toerek Law, will review practical solutions for must-have GDPR requirements, such as cookie tracking, lawful basis to process and communicate, deletion of personal data, website privacy policies and more.
Register now to save your seat!
Save the date for these upcoming meetups:
December 11: Goodbye Funnel, Hello Flywheel: The Next Tech Marketing Evolution
February 12: Building a Top-Notch Marketing Department as an Army of One
About TechConnect
TechConnect meets at a rotating Cleveland-area venue on the second Tuesday of every other month for a breakfast event from 7:30-9:00 a.m. You'll have plenty of time to grab refreshments and network with other tech marketing enthusiasts before hearing a short presentation on a sales/marketing topic picked by fellow members.
Check out the TechConnect website here.