The increased complexity of integrated marketing has not only shifted the ways that companies engage marketing agencies—it's also changed the way that marketing agencies put together plans to meet their clients' unique business goals.
Here are the three main questions most marketing agencies look at when they engage with a software or tech company who is looking to grow their business.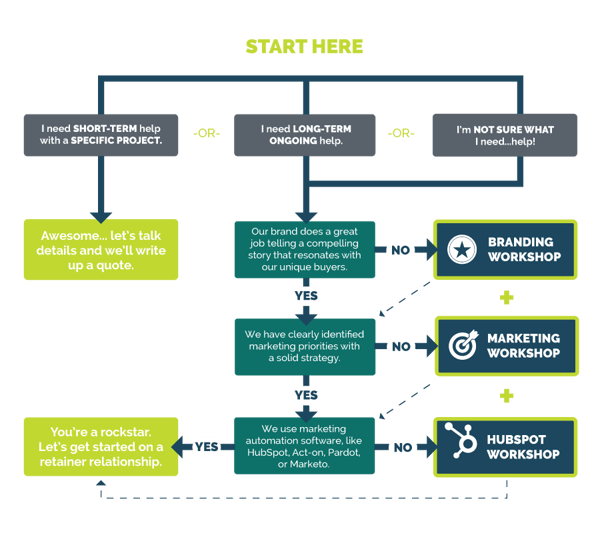 #1. Does your brand tell your story?
Does your brand do a good job telling a story that resonates with your unique audience?
And this one isn't fair, but there is almost a pre-question to this one…do you know who your unique audience actually is?
In other words, do you have documented buyer personas? Hate to say it, but buyer personas that only exist in your head don't count. And part of the reason for that is because its so important for sales and marketing, as well as any agency partners to be exactly on the same page with who you're marketing to. If your buyer personas aren't down on paper, then you can't be surprised when someone across the hall has a different idea of who you're marketing to than you do.
If your buyer personas are in place, only then can you determine whether or not your brand is really telling the story that your buyers need to hear.
So, does your brand tell your story? Does your key messaging resonate with your target audience?
If the answer is YES:
Awesome! You're ahead of most! And you're free to move on to #2.
Is the answer NO:
No buyer personas? Or is your brand not quite telling the right story? Then we'll start with a branding workshop.
Here's a snapshot of what you get from a branding workshop.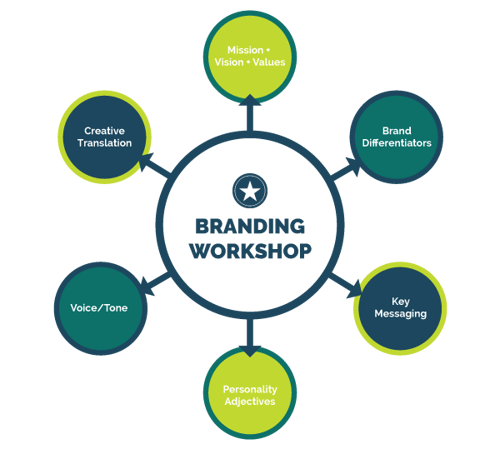 These foundational pieces serve as the groundwork for all of your marketing activities. And truly, once you nail your branding and key messaging, it makes all other marketing efforts that much more straightforward and effective.
#2. What is your [documented] marketing strategy?
Just like your buyer personas, if you don't have a documented (keyword - documented!) marketing strategy, then we'll start here.
And your marketing strategy doesn't have to be anything overly complex. In fact, some of best and most actionable marketing strategies are on a single piece of paper.
Your marketing strategy should include a few key elements:
Sales and marketing goals
You're overarching marketing strategy
Your tactical plan
Do you have these three pieces in place?
If the answer is YES:
Great! You may proceed to #3.
Is the answer NO:
No overarching strategy that you can effectively communicate? No clear tactical plan? Then we'll start with a marketing workshop.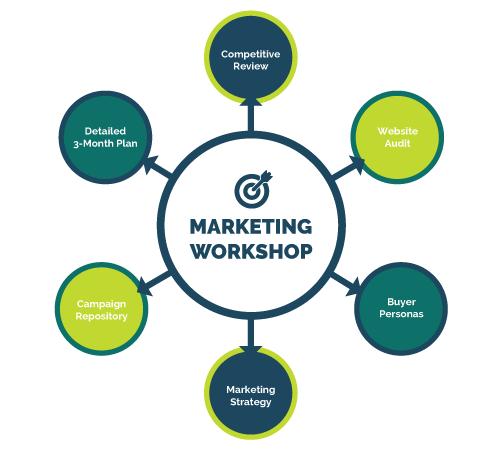 From the marketing workshop, you'll get actionable deliverables like your marketing strategy, campaign repository and detailed 3-month action plan.
#3. How are you using marketing automation?
Are you actively using a marketing automation software like HubSpot, Act-on, Pardot or Marketo?
Marketing automation software helps companies attract visitors, convert leads and close customers.
Here's a gut check to see if you're using marketing automation at a minimum level:
Do you have all of your contacts in the system?
Are your sales reps tracking their activities?
Do you have your email templates established?
Do you have at least a few landing pages for lead generation?
Do you have nurturing workflows to give your prospects an individual experienced based on their interests?
Do you have all of those bases covered already?
Awesome-sauce!
If the answer is NO to
any

of these questions:

Then we'll dive into a marketing automation workshop.

Here's a snapshot of what you get from a marketing automation workshop: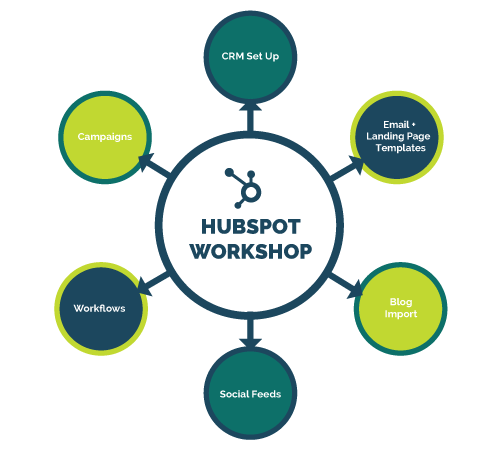 We'll get your system firing on all cylinders, making the most of workflows, campaigns, and content automation.
Can't confidently answer these questions?
Not sure where you stand, or if you can truly answer YES to some of these questions?
That's not uncommon… seriously!
Marketing agencies are here to make you look like rockstars. If you're not sure where to start, send a message below. You don't need to have everything figured out before we chat.
Answered "yes" to #1-3?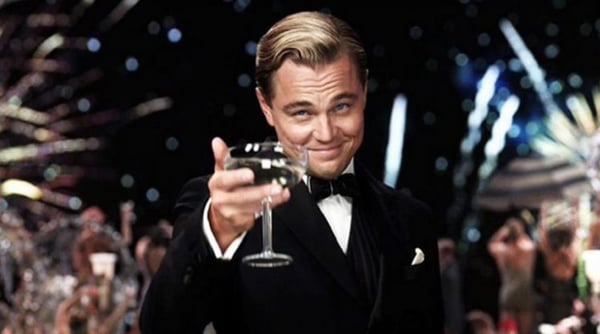 Congrats! Yes, you are a marketing rockstar!
With those 3 foundational pieces in place, that means we can hit the ground running. The rubber meets the road. Prepare for lift-off. Insert one more overly-excited cliche here.
In these cases, we'll get right down to business by executing your existing marketing strategy and making intelligent, data-focused adjustments.
Our retainers provide a flexible and ongoing level of engagement, where you know you have a whole marketing agency working for you.
Getting started with an agency
If you're interested in seeing what it would look like to work with a marketing agency, we're ready to start that conversation with you.
Here's what we'll want to know when we jump on the phone:
The current state of your marketing, including what capabilities you have in-house
Your future goals, including what KPIs would define success
How quickly you want to reach your goals
A reasonable budget
So, whether you need all three workshops, you're a marketing rockstar or you're somewhere in between, we're ready to help.