All of a sudden, the new year is within sight. 'Tis the season for reviewing your year-end metrics and wrapping up the details on your 2019 marketing plan.
If you're ready to make next year your best year yet, you have to get started on the right foot.
Here are our top three strategies to make sure that you look like the marketing rockstar you are in 2019.
1. Get organized.
Sure… this one sounds simple, but "getting organized" extends WAY beyond just cleaning your desk and files.
Marketers often rely on a robust tech stack to power their efforts; everything from marketing automation tools like HubSpot, or landing page, PPC or social media posting platforms.
A common thread within those platforms is that they often are host to A LOT of data and information.
Messy platforms, disorganized files, and stuff out of place can not only slow you down—it could also impact the effectiveness of your marketing campaigns.
For example, if you're hunting for information, you may set up campaigns in the most effective way possible, missing out on valuable reporting capabilities or campaign insights.
Or, if your processes are disjointed and unorganized, you could have good leads slipping thru the cracks.
Here are a few things you can do today to start getting organized.
"Templatize" files you use regularly and make those templates easily accessible.
For example, we keep our blog header template front-and-center, even adding an asterisk to the beginning so it never gets lost in the list.
Think about the files you use most often, or even the emails you have to commonly send—those are great areas to create some templates.
If you are utilizing website chat, you can also add some quick response messages there, too. We LOVE
HubSpot's Snippet feature
to quickly respond to emails and chat messages.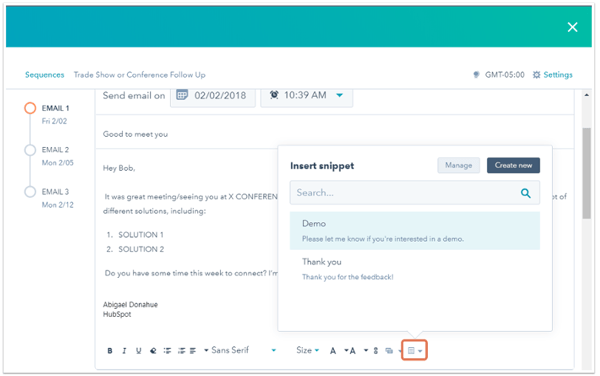 Review your content approval process, and identify areas to optimize the process.
In our "State of the Industry Report: Marketing Trends in B2B Software & Technology," we found that tech marketers want to create even more content in 2019 than they did in 2018. And that means more content that has to go thru internal approvals.
To make sure you're ready to ramp up content creation, take a good look at your approval process. If possible, bring it online with tools like Adobe workflows.
Review dashboards and "quick views" in your existing platforms.
Tweaking the way you view and consume information can not only save you time—it can also make available information you otherwise would never look at.
For example, just updating the columns in the HubSpot contact list can make all the difference. Instead of including phone number and state, which, as marketers, you don't really need that information right away, consider including things like "job title" and "industry."

That information is more actionable for marketers, even if it means that marketers are looking at anecdotal data and they review who last downloaded a specific whitepaper, requested a demo, etc.
2. Cross something off your list.
Sometimes, the marketing tactics we try don't work out the way we hoped.
A specific campaign or tactic may not have worked out for a variety of reasons. Maybe it's because of industry nuisances. Maybe it's because the tactic didn't fit in with everything else you're doing.
Or maybe, something was just a flat-out failure.
Too often, marketers will hang onto tactics to give them a fair chance. But when resources are tight and tactic is generating the results you need, don't feel bad crossing it off the list at the start of the new year.
In our "State of the Industry Report: Marketing Trends in B2B Software & Technology," we found that tech marketers' #1 challenge is limited resources.
And that usually means that not everything on the to-do list is going to get done, at least not in the time frame you hope.
I recently ran into this quote, which fits perfectly in this discussion:
The start of the new year is a great time to get serious about that to-do list and make sure that you are being reasonable with what resources you're going to need to get it all done.
3. Review your 2019 plan with your sales team.
To make 2019 your best year yet, start the year by reviewing your plan with your sales team to make sure everyone is on board.
Often in B2B tech, the sales team plays an important role in the growth of the organization.
If sales doesn't know what marketing is doing, or worse yet—if they know what marketing is doing but they aren't on board, you're going to be off to a rocky start.
Use the new year as an opportunity to not only convey what the new plan is, but to invite questions and feedback from your sales team.
Here are a few prompts to generate some good conversation with your sales team in the new year:
What are the most common sales objections you faced in 2018?
Did any prospects reference specific materials? eBooks? Whitepapers?
What did you think of [the email templates, eBooks, products sheets, etc]? Were they easy to find and use?
How was the quality of the leads from [campaign title] campaign?
Is there anything that you'd like from marketing in the short term?
If you're just getting started with a formalized or concerted sales enablement effort, check out our free Sales Enablement Starter Kit for B2B Tech Companies.
Most importantly, make sure the conversation isn't one-sided. It should be less about marketing simply presenting what the 2019 is, and more about how marketing and sales can work together to hit all your goals in 2019.
2019, here we come!