This is an especially busy time of year for marketers.
Between wrapping up campaigns, doing final lead gen pushes to meet targets, end-of-year client gifts, and trying to wrap up 87 projects while balancing time out of the office, this time of year is CRAZY for marketers.
Since that doesn't leave a whole lot of time to think about your 2019 marketing strategy, here are our suggestions for how to get started with your plan.
#1. Start with the data
The best marketing plans always start with data.
What worked last year? What didn't?
Where did your leads come from? Where did your customers originate?
While most marketers know that data is an important part to a good strategy, it can be challenging to figure out where out where to start.
And, when data is in 12 different places, it's hard to get the whole picture.
Instead, consider a data visualization tool like Databox to pull all of your data sources into one, actionable format.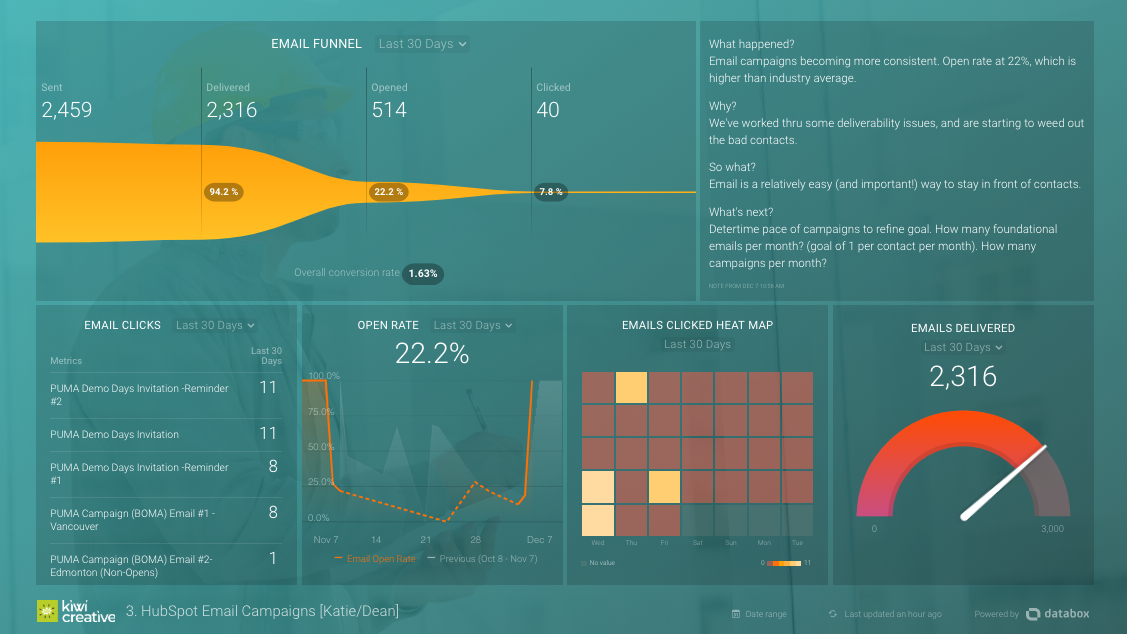 What's great about getting your data into something like Databox is that you not only can intelligently frame your strategy but also, you make your data more accessible for everyday business decisions.
Want to get your marketing data into a scorecard format? Let us know in the form below—we're a Databox Certified Partner, and we'd love to help make your data work for you.
#2. Review your goals for next year
Marketing goals shouldn't stand alone; ultimately, marketing goals should contribute to the broader business and sales goals.
Need help figuring out what your marketing goals should be? In a sense, you'll want to work backward. For example, need to figure out what your web traffic goal should be?
Start with your business growth goals - this will help you determine how many new customers you need to generate to meet your growth goals
Determine your close rate - that will help you determine how many leads you need to generate
Determine your website conversion rate - that will help you determine how much traffic you need to drive to the website, in order to turn those visitors into leads
This is a simple way of looking at it, but ultimately, you could apply dozens of pipeline factors that impact your marketing goals.
#3. Review new tools and tech
Marketing tech changes fast. To have the best plan possible in 2019, make sure you have an eye on upcoming tools and tech.
The Martech 5000 list (below) is a good starting point, but it's admittedly overwhelming.
While these tools are tech aren't brand new, here are a few areas you'll want to make sure you explore:
Video
Video goes way beyond marketing splash videos and whiteboard intro videos.
More and more, video is becoming a valuable tool to use throughout the sales cycle, and even post-sales. With its
recent announcement making video more accessible within the platform, HubSpot has made it clear that video is the future of content.
Chatbots
Website chat is a powerful tool to gather leads and offer support to your prospects and clients. But, you may not have the manpower to individually engage with every visitor who wants more information on your website.
Chatbots help facilitate the early conversion with website visitors. They can gather information, direct visitors and route to a rep, if necessary.
Because engaging with a chatbot is less "commitment" than filling out a form, leads are more likely to come thru via chat.
Augmented reality
While AR used to be out of reach for most marketers, its become more accessible every day.
Tech companies are taking advantage of this commercially-friendly technology to develop solutions unique to their business.
#4. Benchmark against your peers
In order to make sure you have the best plan possible, you'll want to benchmark your own tools, tactics and performance against your peers. What works in one industry may not work in another.
Even a quick competitive analysis can give you valuable insights for your own plan. Think about your biggest competitor and hop over to the website.
What is your biggest competitor blogging about?
Are they going to any events?
How are they generating leads?
You can also put your competitors' website into tools like Website Grader to measure the strength (and gaps) of their website.
#5. Develop your plan
With all the information in hand, you're now ready to develop your marketing plan.
One-sheet strategy summary. For quick reference, outline your high-level marketing plan on a single sheet, available to your key stakeholders: marketing, sales and business leaders. Try to summarize your strategy with 3-5 bullet points.

What better way to make sure everyone is on the same page than

literally

outlining your marketing plan on a one-sheeter?

Campaign repository. This is your "parking lot" of campaigns to pursue over the next 12-18 months.
Detailed 3-month tactical plan. This is your detailed plan of exactly what you are going to do over the first quarter in 2019. It usually takes the form of a spreadsheet or Gantt chart.
What better way to make sure everyone is on the same page than literally outlining your marketing plan on a one-sheeter?
The important thing here is that your tactical plan should be actionable. Anyone picking it up should be able to run with it and start checking things off the list.
#6. Allocate resources
Once you have your plan in place, you're now ready to implement it.
The important thing here is to make sure that you are being reasonable with your goals and resource allocation. For example, maybe you had something on your list last year that you didn't get around to doing; instead of putting it back on your list for 2019, consider either adding to the team, partnering with an agency who can help or adjusting your goals.
Have more on your to-do list than you're ever going to get to-done? We're here to help.
Or, if you need help developing your plan, we do that, too.
Hit us up on the contact form below, and let's make 2019 your best year yet.