Now that we've had time to completely digest our 2019 State of the Industry Report, we want to take a moment to revisit the top five takeaways. What are the challenges tech marketers face? Why are these problems happening? How can we help solve them?
By revisiting this list, we've been able to pinpoint those specifics and offer solutions.
5) Marketers are their own worst critics.
The problem: Even with 66% of marketers hitting or exceeding their primary KPIs, only 3% gave themselves a 5-star grade.
The reason: This speaks to the ever-evolving trends in the tech industry more than marketing's actual capabilities. As the addition of lead generation tactics rise, few are falling to the wayside.
The solution: In our "Why Are Tech Marketers Their Own Harshest Critics?" blog there are four steps tech marketers can take to improve the quality of their marketing plans.
Take breaks: Step away from the computer to let your subconscious process ideas.
Be realistic: Campaigns don't always pan out and that's okay.
Get a marketing mentor: Finding your Mr. Miyagi will give you crane kick confidence.
Don't knock outside help: Partnering with an agency you can trust can lighten your load.
4) Limited Tools/Resources are the #1 Challenge.
The Problem: Over 50% of respondents work with a marketing team of three or fewer full-time employees regardless of company size and time constraints, coming in at the 2nd biggest challenge.
The Reason: Tech marketers have a lot on their plates and their to-do list is never ending. Limited access to the right software and knowledgeable people are holding marketers back from achieving their full potential.
The Solution: HubSpot pulled together The 61 Best Marketing Tools for Every Business & Budget Guide for 2019 which is definitely worth a look. However, this issue leads us to the #3 takeaway…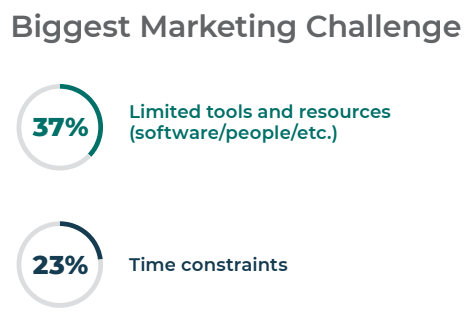 3) 62% of tech marketers are still going it alone.
The Problem: Despite limited tools and resources being their top challenge, a majority of marketers confessed they are trying to tackle everything in-house.
The Reason: B2B tech and software is a complicated industry therefore making it harder for companies to find the perfect marketing agency partner.
The Solution: We like to think of ourselves as the unicorn of marketing agencies who "get" tech. But if you're still planning on tackling your to-do list alone, our 3 Steps to Make Your Tech Marketing Plan Unstoppable will give you the power you need to become a rockstar.
2) Marketers know the importance of the user experience.
The problem: Over 65% of survey respondents confirmed their B2B tech websites are less than 2 years old, but 60% think their site is due for a refresh.
The reason: Ever-changing tech combined with Google's SEO updates is enough to motivate companies to refresh their websites sooner than not.
The solution: Using metrics from A/B testing your homepage and incorporating heat maps on your website can give you behind-the-scenes insight into what content connects with your audience. Check out Bringing Your B2B Tech Inbound Marketing & Sales Enablement to Life for more on testing your website.

And finally, our #1 takeaway from the 2019 State of the Industry Report: Marketing Trends in B2B Software & Technology…(drumroll, please!)
1) Quality content is still king.
The problem: Out of the rankings of current lead generation tactics, 4 out of the top 5 were primarily content-based. However, when it comes to all forms of content, marketers admitted frequency was a constant problem.
The reason: The introduction of inbound marketing. Tech marketers need to keep up with email campaigns, blogging, social media, sales resources…the list goes on an on. Nurturing content needs to be written for every persona in every stage of the funnel.
The solution: A majority of participants answered that if they could hire an addition to their internal team, it would be a writer who can think both creatively and strategically to produce consistent, compelling content. Don't have the budget to hire? Try partnering with an agency that knows tech. Don't have the budget for an agency? Our 3 Steps to Become a B2B Tech Blogging Master will set you on the path constant content creation.
Ultimately, B2B technology and software marketers are driven, trend-savvy, do-it-yourselfers who believe they can always do better. They yearn for quality tools and resources so they can get to where they want to be and aren't afraid of new marketing trends as long as they have the support they need.
These are only some of our findings pulled from our 33-page report created from months of research and with the help of over 100 industry B2B tech marketing experts. There are still plenty of insights to explore in the report such as:
The hottest tech marketing philosophy for 2019
A B2B tech marketers #1 single, most effective lead generation tactic
How much tech companies REALLY spend on marketing
And more...
Download the State of the Industry Report to see how you stack up against your peers and where tech marketing is going in 2020.