Thanksgiving is a time to reflect and to think about what we have to be thankful for.
But, if you're anything like most marketers this time of year— you're probably frantically running around trying to wrap up 87 projects, kicking-off your final campaigns of the year and planning for 2019… all at the same time.
Since that leaves minimal time to reflect on what you have to be thankful for in the world of marketing, read on for a few (unexpected) things to be thankful for.
1. GDPR
Yep, you heard me right. The thing that is causing marketers so many headaches this year is also something that we should be thankful for.
GDPR is fundamentally changing the way that we interact with contacts, and as marketers, that's a big deal.
GDPR is the General Data Protection Act, and was enacted by the European Union on May 25, 2018 to replace and improve upon the 1995 Data Protection Directive.
In short, GDPR is the new standard of information privacy for companies and organizations who serve or communicate with EU residents.
GDPR has given us good reason to clean up our databases and review privacy policies. It's given us reason to take a step back to look at how and more importantly, why we're asking for personal information and engaging with contacts.
AND, you can be thankful that you can use GDPR as your excuse to not send generic, mass marketing emails that no one wants to read, anyway.
While not the "sexiest" topic in marketing, it is important for all marketers to make sure you understand the ins-and-outs and establish your plan. I
If you haven't already addressed GDPR, here's a quick-and-dirty checklist to get you started.
2. The growing marketing technology landscape
This list getting even BIGGER is something to be thankful for?! If you're willing to sift through the list, heck yeah!
Scott Brinker from chiefmartec.com has been tracking the marketing technology landscape for since 2011. In that time, we watched the total number of marketing technology vendors explode from 150 vendors in 2011, to more than 6,800 in 2018.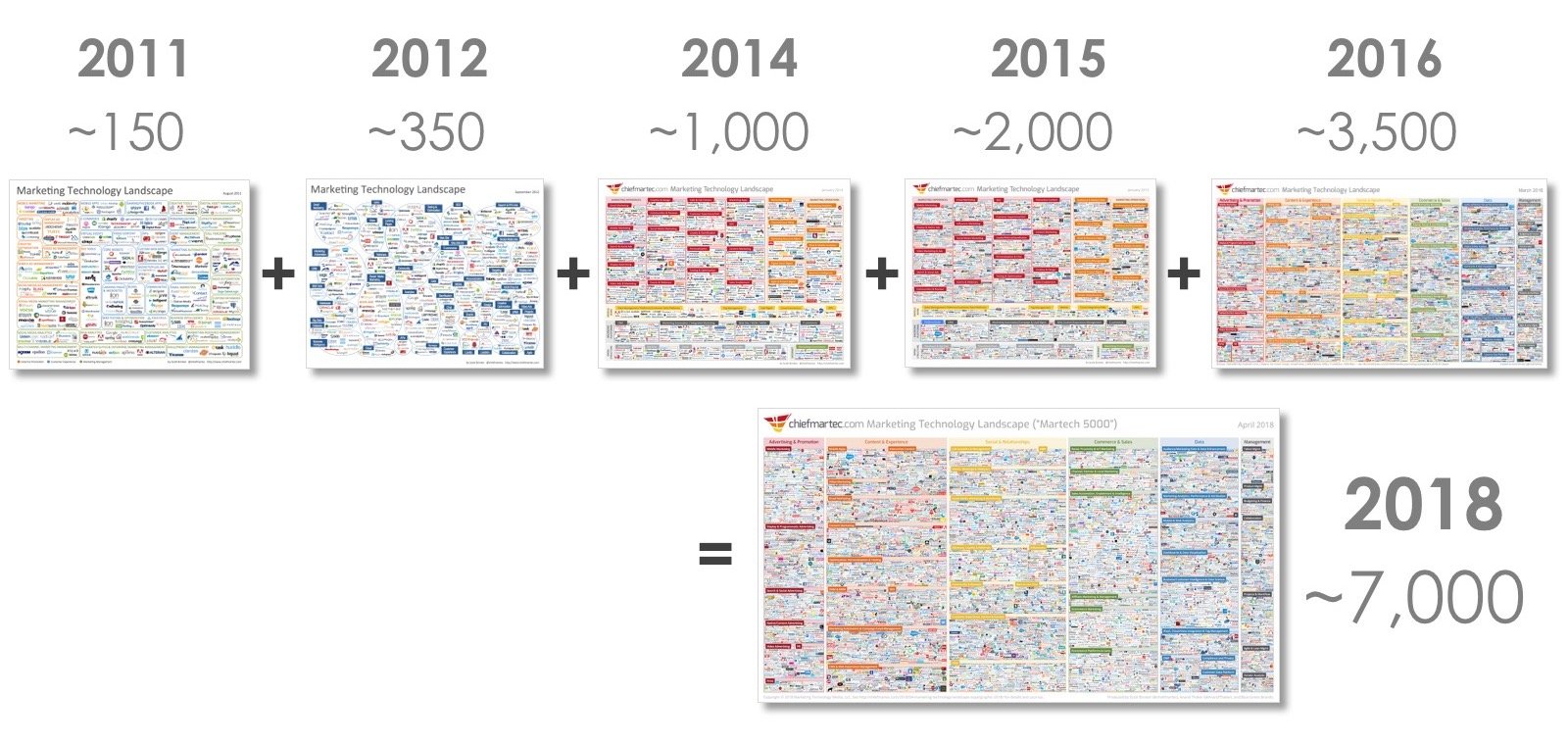 To some extent, that's probably no surprise—as the industry evolves, technology will continue to evolve with it.
As marketers, let's be thankful that we have a plethora of tools to choose from.
Oh, and let's also be thankful (and hopeful) for a bit of consolidation to keep it a little more simple!
Adobe acquiring marketing automation giant Marketo and Salesforce acquiring Datorama and Rebel in 2018 are signs that we'll continue to see some more consolidation.
3. Content overload
But is there really such thing as too much content?
Content marketing has been around for more than a decade, which means that you are probably sitting on A LOT of content.
Sometimes that can feel overwhelming… you may have blog content that is old, or resources that are outdated. Often, updating that old content falls to the bottom of the to-do list.
Instead of searching for new blog post topics, new whitepaper titles, new campaign themes, hit "pause" and take inventory of what you have already.
You probably are already sitting on content that can be updated or repurposed.
For example, you may find that you have 10+ blog posts on a certain topic. Try packaging up those content pieces into a single premium content offer… and voila… you've saved yourself countless hours, and the headache of trying to come up with a brand new campaign or content idea. Instead, recycle the content that is already working for you.
Final thoughts
Marketing moves fast, especially in software and tech industries. Thanksgiving is a great time to reflect on what has worked for you over the past year, so you can plan for an even better 2019.
One thing we know for sure is that the tools, tech, policies and industry altogether is getting more intelligent every day. Now that's something to be thankful for.