Tech marketers have a lot on their plates. (We know because we surveyed 100+ of them for our "State of the Industry Report: Marketing Trends in B2B Software & Technology.") Managing budgets, adhering to tight deadlines, differentiating a SaaS product in a competitive marketplace…a marketer's to-do list is never ending.
But what do software and tech marketers say is their #1 challenge?
The answer might surprise you…
(Hint: it isn't something we've listed above.)
The #1 challenge faced by software and tech marketers is limited tools and resources.
In fact, 37% of our survey participants said that not having access to the right software and knowledgeable people was holding them back.
Rounding out the top five list of challenges for software and tech marketers are:
#2 23% time constraints
#3 14% budget
#4 13% lack of qualified leads
#5 9% product/service differentiation
What can tech marketers do to help with limited resources?
Since limited tools and resources are a tech marketer's #1 challenge—not budget—we found it surprising that 62% of tech companies are still handling all of their work in-house.
That is until we saw that of the companies who use an agency, half were unsatisfied with their relationship.
Yikes.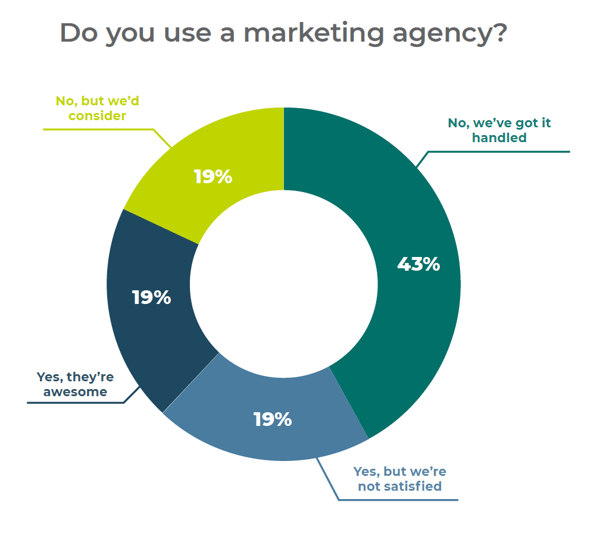 The problem, in our humble opinion? Most agencies are "generalists," meaning they work with clients in a variety of industries. Without a deep specialization in B2B tech, these generalists struggle to "get" the industry and can't produce the type of work needed…meaning the onus falls back in the in-house marketing department.
Are there agencies that truly "get" tech?
Yes…because we happen to be one of them. We've spent years working with tech clients in a variety of B2B verticals—SaaS, MSPs, cybersecurity, telecom, healthcare IT and more. Since we already "get" the unique challenges of the B2B tech industry, we're able to jump right in and create compelling content without a steep learning curve.
If you have a complex product offering, configurable solutions, an agile structure or multiple potential buyers, you need an agency partner who understands those dynamics. Like us.
See what it's like to work with a full-service agency who just "gets" the nuances of marketing in the tech industry…it might just alleviate your biggest challenge of limited tools and resources.