Tech marketers are go-getters who dabble in every type of lead generation source imaginable. From PPC to webinars, they know that by diversifying their reach they can meet potential leads wherever they are and nurture them through the buyer's journey into becoming satisfied customers.
But which of the many tactics in their marketing arsenal is the go-to, quality lead generation machine?
Old-school, in-person events such as trade shows and conferences.
According to the expert marketing execs surveyed for our 2019 State of the Industry Report, one-third consider events their #1 best lead source. But why?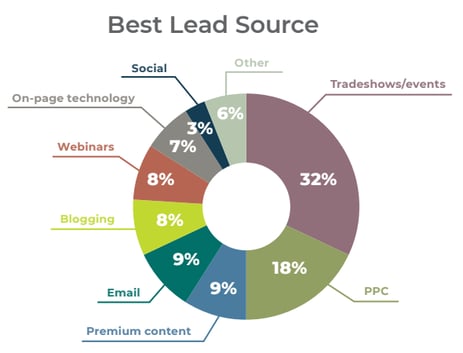 Quality not quantity.
You may notice, the previous stat says best, it's about quality. Qualified leads are really what we're all after. Campaigns that bring in thousands of leads don't matter much if none of them are qualified to purchase your product or service. Casting a wide net doesn't necessarily bring in a good catch but events are oceans full of qualified leads.
According to the Trade Show New Network (TSNN), "81% of trade show attendees have buying authority, representing four out of five people walking the floor." For the most part, you're not going to have to navigate the channels to get to the true decision makers as they will be present. Events are the perfect waters for fishing as the majority of attendees are there because they are curious about new industry trends and solutions.

Attendance brings rewards.
Almost 80% of tech companies are participating in three or more trade shows per year. Now that's a lot of swag! Attendance at live events comes in many forms and the greatest part is, they are all effective for lead generation.
There are four basic ways to get involved with live events: attending and networking, hosting a booth, sponsoring the event or speaking at the event.
Attending and networking
Sometimes you don't even have to be the star of the show when it comes to live events. Attending and focusing on good old fashioned networking can get you in front of leads just as easily. Attendees are walking expo floors, attending sponsored happy hours and registering for breakout sessions because their goal is to learn but also to make new connections. By attending only first, you'll be able to determine if an event aligns with your company's goals and target attendance before you dive in to sponsor or exhibit.
Hosting a booth
Hosting a booth at a live event is the most common form of company involvement. You and your team show up with some marketing collateral and free swag ready engage attendees. The team your company sends should be diverse and relative to the size of event. Sending a one-man show to a expo filled with thousands of booths is not optimal, just as sending 20 employees to a small conference makes no sense. Choosing the right promo item for your company is also never easy. Lucky for you, we've narrowed down your choices.

Sponsoring the event
When you've found an event that really connects with your target audience, partnering with the hosting company can maximize your presence. But beware! Logo only sponsorships are fluff compared to the other sponsorship levels and benefits. They don't really mean much unless there is another benefit to back it up such as a sponsor spotlight, speaking engagement or opportunity to communicate who your company is beyond the logo.
Speaking engagements
Scoring a speaking engagement at an event can be extremely beneficial regardless of the size of the event or the stage. Obviously, a main stage speaker presentation is where you want to be but that can't always happen. Breakout speaking sessions are almost as good since you know the audience in the room is there for you specifically. Another bonus is by presenting in a smaller space you can create a more interactive version of your presentation. Increasing engagement and positioning your company as a thought leader at the same time is a win-win.
Overachievers welcome
Although the average tech company participates in five events every year, the new trend is to go above and beyond attending. Over half of tech companies are hosting their own events.

Planning an event is no simple task. This is not "Field of Dreams" where "if you host it, they will come." Tech companies are making a real investment (time AND money) into making the people come to them and asserting themselves as experts in their industry.
Even with waves of new marketing trends, in-person events are still where genuine, quality, human connections are made. Whether your company is just there for the ride or really gets involved, there are always opportunities to engage with attendees and make those connections. Trade shows, conferences and expos aren't going anywhere. If anything, they are growing and gaining momentum. So, get your travel bag ready and grab that name tag lanyard because it's time to shake hands with new some new leads.
Interested in more real-life stats? Click below to download our 2019 State of the Industry Report: Marketing Trends in B2B Software & Technology for free!