Where do you place your paid ads? If you're like 75% of tech companies we surveyed for our Paid Digital Advertising in the Real World report, you prefer LinkedIn. And that makes sense—B2B marketers have a lot of success reaching people on LinkedIn!
By contrast, just 31% of B2B tech companies we surveyed report that they advertise on Facebook.*
* Yes, we know Facebook rebranded to Meta. But honestly, no one is really calling them that yet.
Perhaps that's because Facebook has traditionally been the place to advertise for B2C companies, but B2B brands should give this platform a try. After all, according to one Facebook survey, 74% of American Facebook subscribers use it to find new products and brands.
Also, if you haven't checked it out lately, Facebook has been very focused on fine-tuning their ad platform and finding the best options to give for ad formats and targeting options. Other platforms—such as LinkedIn and Pinterest—have followed suit…and even media companies like Hulu are introducing the same self-service ad portals.
Bottom Line: Facebook can potentially offer your B2B audience better ad placements at a lower cost…and that's a win-win situation in our book!
How are LinkedIn and Facebook similar?
LinkedIn was designed as a corporate recruitment platform, while Facebook was originally built for communicating and sharing among friends.
However, over the years both platforms have evolved considerably. LinkedIn now offers many more social network-esque features, like private messaging, status updates and blogging capabilities.
Meanwhile, Facebook has capitalized on its sharing-centric aspect, and leans on that heavily as a "selling" point for businesses looking to advertise. (Note—sharing isn't the only feature that makes Facebook an effective B2B advertising platform.)
In essence, they've taken the most advantageous aspects of each other and integrated them into their respective platforms.
In addition to all this, both brands have user-friendly ad managers that help you achieve success. They both, for example, offer a feature that helps you reach new people who might be interested in your business, based on their similarities to your existing audience. Facebook calls it "Lookalike Audience." On LinkedIn, you'll find it under "Audience Expansion."
Where does Facebook edge out LinkedIn?
Reach
Point blank, Facebook has wayyy more users than LinkedIn. According to Statista, LinkedIn boasts a little more than 64.7 million monthly active users (MAUs); Facebook has around 2.8 BILLION MAUs.
In addition, by using Facebook Ads Manager, you not only can create and manage paid ads on Facebook itself, but also on Instagram, Messenger and/or Facebook's Audience Network, which expands your advertising reach to within Facebook-approved apps.
Ad type choices
Facebook and LinkedIn offer some of the same advertisement type options, including video, text, image, carousel, dynamic and lead ads. Also, LinkedIn's Sponsored InMail ads are quite similar to Facebooks' Messenger ads.
However, Facebook surpasses LinkedIn's options, with additional offerings such as interstitial, banner, collection and canvas ads. In tandem with Facebook's targeting options, Facebook easily comes out on top for variety of ads.
Targeting options
We know what you're thinking…yes, Facebook has way more users than LinkedIn, but are they relevant? Can you really reach your target B2B audience there?
Spoiler alert: yes! In fact, Facebook's ad targeting options are even more detailed and personal than LinkedIn's.
LinkedIn allows you to target your audience based on things like:
Demographics
Schools attended
Industry
Current employer
Job title
Company size
Joined LinkedIn groups
In contrast, Facebook offers personality and behavioral-based targeting options, such as:
Location
Liked pages/interests
Buying history
General interests
Significant dates (e.g. birthdays and other life events)
Education level
Demographics
Industry
Politics (U.S. only)
Connections
Notice that, between the two, Facebook's targeting options allow you to get more granular with your audience. Use this to your advantage by spending more time on audience building—it will take more creativity and more time, but if you have a strong concept of your target audience, including well-realized buyer personas, you can do it.
Retargeting tools
One way Facebook offers retargeting is via the Facebook Pixel, an analytics tool you install on your website to measure Facebook Ad performance. It tracks your visitors and leads as they move from device to device and platform to platform, and retargets them with ads there.
LinkedIn does offer something similar—the Insights Tag—which works using JavaScript. However, because of the nature of Facebook (i.e., it has more choices and data for retargeting), Facebook Pixel is generally further reaching.
Price
As you probably already know, LinkedIn advertising can cost $$$. By comparison, Facebook is much more cost-effective. If we're talking plain numbers, Facebook is by far the more economical paid advertising platform. The average cost-per-click (CPC) for LinkedIn ads (how much you pay every time someone clicks your ad) is approximately $5.26 per click. Facebook's average CPC is—get this—$0.97.
Of course, take this with a grain of salt…regardless of how much money you do or do not spend on paid advertising, if you don't do it well, you still won't get good results. A higher cost doesn't automatically equal a higher return on ad spend (ROAS).
How can you leverage paid Facebook ads to your advantage?
As with any B2B marketing endeavor, in order to successfully use paid advertising on Facebook, you need a strategy focused around a goal, with your budget and keywords in mind.
Build brand awareness
To make the most of Facebook advertising, you need to first make sure that you're using it for the right purposes.
B2C businesses have a relatively easy time generating leads using Facebooks Ads. In the world of B2B, however, Facebook Ads won't quickly get you to lead gen…but they are a great tool for B2B brand awareness (which, by the way, is just as important as lead gen…more on that here).

Because Facebook is such a far-reaching tool, you can harness its power as a programming channel to:
Let potential customers know that you exist
Talk about their pain points
Offer education
Introduce your solution
TLDR; Facebook helps you get your name "out there" where lots of people may see it—it gives you the chance to pique the interest of your potential customers. So maybe you use LinkedIn for a targeted lead gen campaign, while you use Facebook Ads to spread brand awareness and engage with your customers.
Adjust your messaging for your audience
As you craft your ad, remember to adjust your messaging for your audience. Don't forget, when someone is on Facebook, they're not in the same mindset as they are when they're on LinkedIn. They are more likely to respond to a conversational ad rather than a more buttoned-up one.

For the best results, aim to create ads that are educational and/or data-sharing, engaging and casual. Keep them super short and add graphics. For instance, you could use Facebook to share a fun stat with a cool image.
Use Facebook Targeted Ads
Finally, take advantage of all the tools that Facebook has to offer, like Facebook Targeted Ads. Facebook Targeted Ads builds ads around three main variables: objective, type and placement.
Objective
To help you focus your campaign, Facebook Targeted Ads it has an objectives drop-down menu that prompts you to choose one of the following:
Brand awareness
Reach
Website traffic
Engagement
App installs
Video views
Lead generation
Messages
Conversions
Catalog sales
Store traffic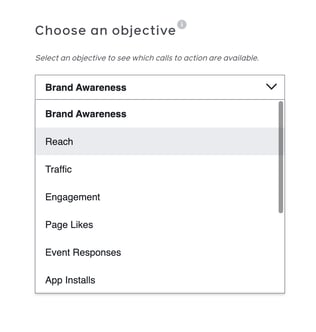 Facebook's targeting criteria also comes with a neat lil' tool called an audience definition tool. It takes all the properties you've selected into consideration and produces a potential reach number.

We should note that the more niche your audience, the smaller your ad's reach and the longer it will take for it to perform (if at all).
So remember to be patient, pay attention to your results and adjust your campaign as needed. It ALSO wouldn't hurt to do some A/B testing along the way.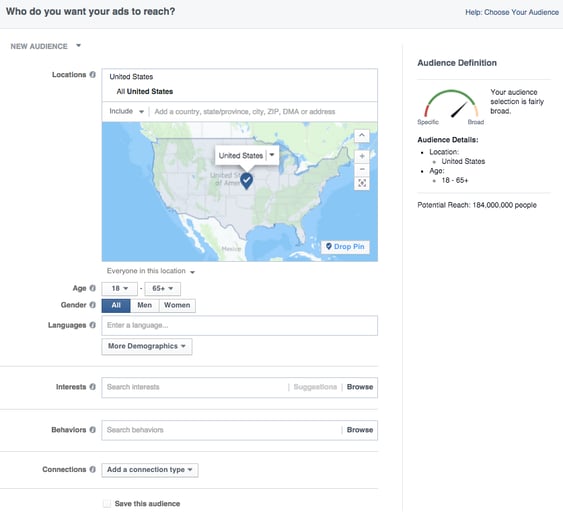 Type
Based on your objective, Facebook presents you with the best ad options to achieve your goal.
Note: In general, Facebook audiences respond better to ads with images or video, which makes plenty of sense…on such a busy platform, you have to do something to catch a user's eye.
Placement
Facebook also offers placement options so you can decide exactly where your paid ad will appear on any one of its network of sites. It even lets you place ads on streaming platforms.

This is especially useful when you consider how your ads will appear on Facebook mobile, which is not something you want to forget—did you know that 79.9% of users ONLY access Facebook via mobile devices?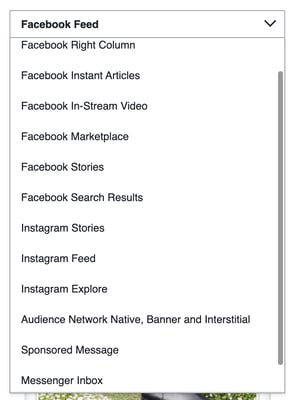 What's the verdict?
So is Facebook better for advertising than LinkedIn? Not necessarily, but in the end, you don't have to choose one platform over another… What's important is that you are aware of the differences and are able to choose the right one for the situation.
In other words, you can successfully run the same campaign on both platforms…they'll just look and sound different from each other.
Done right, the possibilities are (nearly) endless.