Google Analytics is a powerful free tool to track website traffic and visitor behavior. If you're not using Google Analytics or a similar tool, you are missing out on opportunities to get insight into website data, analyze which online campaigns have the best traffic and conversion performance, get insight into who the visitors are on your website and more!
Even if you have Google Analytics installed, you might still be missing out. More often than not, we find that tech marketers treat Google Analytics as a "set-it-and-forget-it" platform. However, this could create problems down the line when trying to accurately track your marketing efforts.
Keep reading to learn about ways to properly set up Google Analytics and why you should utilize Google Tag Manager ASAP to ensure you are accurately tracking and reporting metrics for your B2B tech company!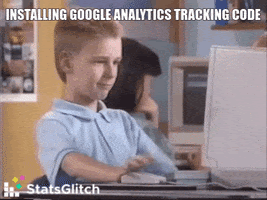 The Importance of Updates
Most B2B marketers make changes to their websites at least semi-regularly. But, many forgot to consider the impact that those changes may have on their Google Analytics settings. For example, let's say you change the contact form on your website. If that form was set up as a "goal" in GA, it is imperative that you also check to make form submissions are still recorded and tracked properly.
In addition, Google frequently releases updates to Google Analytics that may offer new insights once setup. For example, Google recently launched an update that allows you to group visitors into cohorts by the date they first visited your site. Let's say you launch a new product and want to see people who come to your site what they do afterward. Or you start a new marketing campaign and want to see its long-term impact on visitor behavior. Essentially, anybody that visits your website to your site during an initial time frame that that campaign was launched can be grouped into a cohort, and you can then segment other reports by that cohort. If you didn't know about this new tool, you might have missed opportunities to create timely cohorts.
While Google Analytics is an incredible platform, it is not foolproof and requires a human hand to make sure everything is being recorded correctly. Set a task or calendar reminder to go into your Google Analytics account every month to review your settings and make sure they are correct and complete!

Read Tech Marketing Analytics in the Next Phase of Crisis Management to learn five data-centric tips can help you make better marketing decisions.
Have you implemented Google Tag Manager?
Google Tag Manager and Google Analytics are two separate and very powerful tools. Google Analytics is a great tool for reporting and analysis of conversions, custom segments, e-commerce sales, bounce rate, engagement time on your web pages, and more. Google Tag Manager, on the other hand, is a fantastic third-party code storing and management tool. With Google Tag Manager, you can customize which data is sent to Google Analytics so that you can see even more detailed data. While Google Analytics records mostly page-level events (such as the number of visits to a page), Google Tag Manager allows you to go to the click-level. You can use it to capture events such as scroll depth, content downloads, form abandonment, video views tracking, add and remove from cart clicks, and clicks on links.
Most tech companies these days are running Google Analytics but lots of people haven't even heard of Google Tag Manager. While Google Tag Manager is a bit more complicated to set up than Google Analytics, it is worthwhile to utilize because it allows you to get much more detailed information about visitor behavior on your site. The page-level data can drive design and content decision for each page of your site.
Unique Benefits of Google Tag Manager
The greatest benefit of Google Tag Manager is that you have all third-party code in one place. It eliminates pain-in-the-butt code-editing tasks that require a seasoned developer. By utilizing this free tool, you can add and update website tags such as javascript code snippets for conversion tracking, remarketing, and site analytics quickly and efficiently.
Another benefit of Google Tag Manager is that it can help to a certain extent with the speed on your site. Let's say you're using a lot of tracking tags instead of implementing each one separately. With Google Tag Manager, you implement all the tags during the account setup. Then, only one script will have to run to fire all those tags. The end result is that the information is sent back to Google Analytics, but you have more control over how it is recorded and how it appears in Google Analytics.


Benefits of Google Tag Manager
Mistake-proof your website by enabling you to not go into manual code on each page of the website.
Debug features helpful to test and debug updates on your site before going live.
Archiving of past versions every time you make a change through GTM, making it easy to go back to a former version at any time.
Helpful built-in tags for AdWord conversions, remarketing, Universal Analytics and more!
Automatic event tracking which eliminates tedious manual tagging for each link or button you would like to track.
While tech marketers can do their homework and take a free Google Tag Manager course at Google Academy, it is not something that I would recommend that you take on without doing additional research and education. In most cases, working with an agency that has proven experience in Google Tag Manager is ideal because historical data is of key importance. When implementing Google Tag Manager, you want to make sure that it's set up correctly and you don't lose all that important data!

Do you have KPI's or goals associated with your website?
KPI stands for "key performance indicator," and it essentially just means a piece of data that you believe truly represents a broad picture of the performance of your website. KPIs are different for every company, although I find that most technology companies focus on the number of demo requests or video demo views.
It is important to define and set up your KPIs when you start your marketing campaign so that you can track the effectiveness of your efforts and are able to see the bigger picture of your company's performance. However, just because you set them up once doesn't mean that they won't change.

Read Top 4 Must-Measure Marketing Metrics for Tech Companies for even more useful info!


For example, if you learn at some point that visitors who watch a short explainer demo are much more likely to request a longer personalized demo, you may find that you want to add a KPI around that short explainer video.
On the other hand, if people are not converting on your website but you see growth in the number of sales calls you're receiving, you may want to implement phone number tracking and make the number of phone calls a KPI.
Either way, your KPIs should be reviewed periodically using Google Analytics data, anecdotal stories, and information from your CRM or other sales tools. We suggest setting a calendar reminder to review every 3-to-5 months with your sales and marketing teams.

Conclusion
Google Tag Manager and Google Analytics are powerful tools that, when used simultaneously, can enhance your data reporting and give you a clearer picture of visitor behavior on your website. While there are courses available to learn more about Google Tag Manager, I recommend tech companies work with a digital marketing agency to ensure that they are correctly setting up tags, triggers and variables.
Would you like to make faster marketing decisions with our complimentary data dive to analyze how COVID-19 is impacting your website? Sign up to receive a personalized report with our top 3-5 recommendations for immediate action!
Related Blogs