With website analytics, there is no shortage of tools and software that can help tech marketers understand the performance of their sites! Google Analytics (GA) and Google Search Console (GSC) are two of the most popular tools. But what exactly do they tell you, and how should you use them? While both are similar, there are some key differences to understand.
To make matters more confusing, Google seems intent on changing things around every few months:
Google Analytics' historic (and very popular) Universal Analytics (UA) property will become deprecated next summer in favor of Google Analytics 4 (GA4).
Google Search Console has a separate—but similarly named—platform called Google Search Console Insights. Google Search Console integrates with UA and GA4, while Google Search Console Insights only integrates with UA.
Have I lost you yet? While Google's marketing ecosystem is an indispensable tool for tech marketers, it is not without its confusion. This blog aims to highlight the core differences between Google Analytics and Google Search Console and pinpoint the specific use cases for tech marketers to leverage both platforms. Let's start by breaking down each tool separately.
Google Search Console tells the story of your website's performance on Google Search before users reach your site
Google Search Console provides a useful bird's-eye view of your website's performance on Google Search. It contains five core report areas: Performance, Index, Experience, Enhancements and Security & Manual Actions.
Performance
The Performance reports contain quantitative information about your website's performance on Google Search, including the number of clicks, impressions, CTR (click-through rate) and average position. Tech marketers can examine these four metrics for their entire site or for specific queries, pages, devices, and countries. This is the report tech marketers tend to examine the most. Our favorite metric with the Performance reports is the number of clicks, as getting a boost in impressions does not inflate this total as it does with CTR and average position.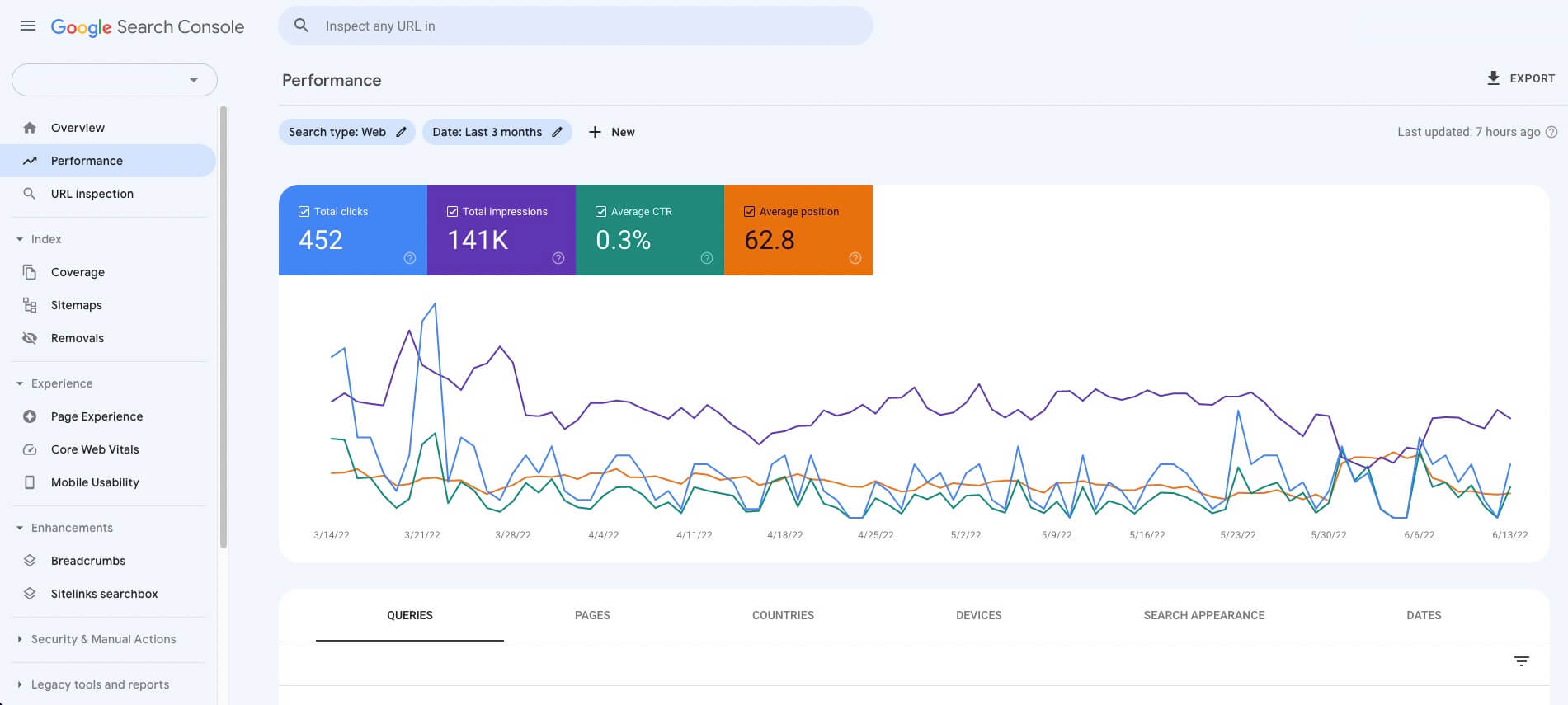 Index
The Index reports highlight your website's status within the Google index by cataloging any errors or warnings with your content that impact rankings. When Google crawls websites, errors and warnings are the first things its Googlebot sees! Tech marketers must review any pages flagged within the Errors or Warnings tabs. These frequently include broken links, soft 404s, or general crawl errors. This is also where you submit a sitemap and request the removal of URLs from various crawling issues such as 404s or inaccessible URLs.
It's important to note that the data in Google's index is historical and not always reflective of the current state of your website. As such, it's not uncommon (we run into it often) that Google will populate errors and warnings for issues already resolved or that occurred with a "glitch in the matrix." In these cases, we recommend looking at the Live URL Inspector to see if Google captures any errors on a fresh crawl. If it doesn't, go ahead and "validate fixes" so Google can remove the error or warning from your GSC dashboard.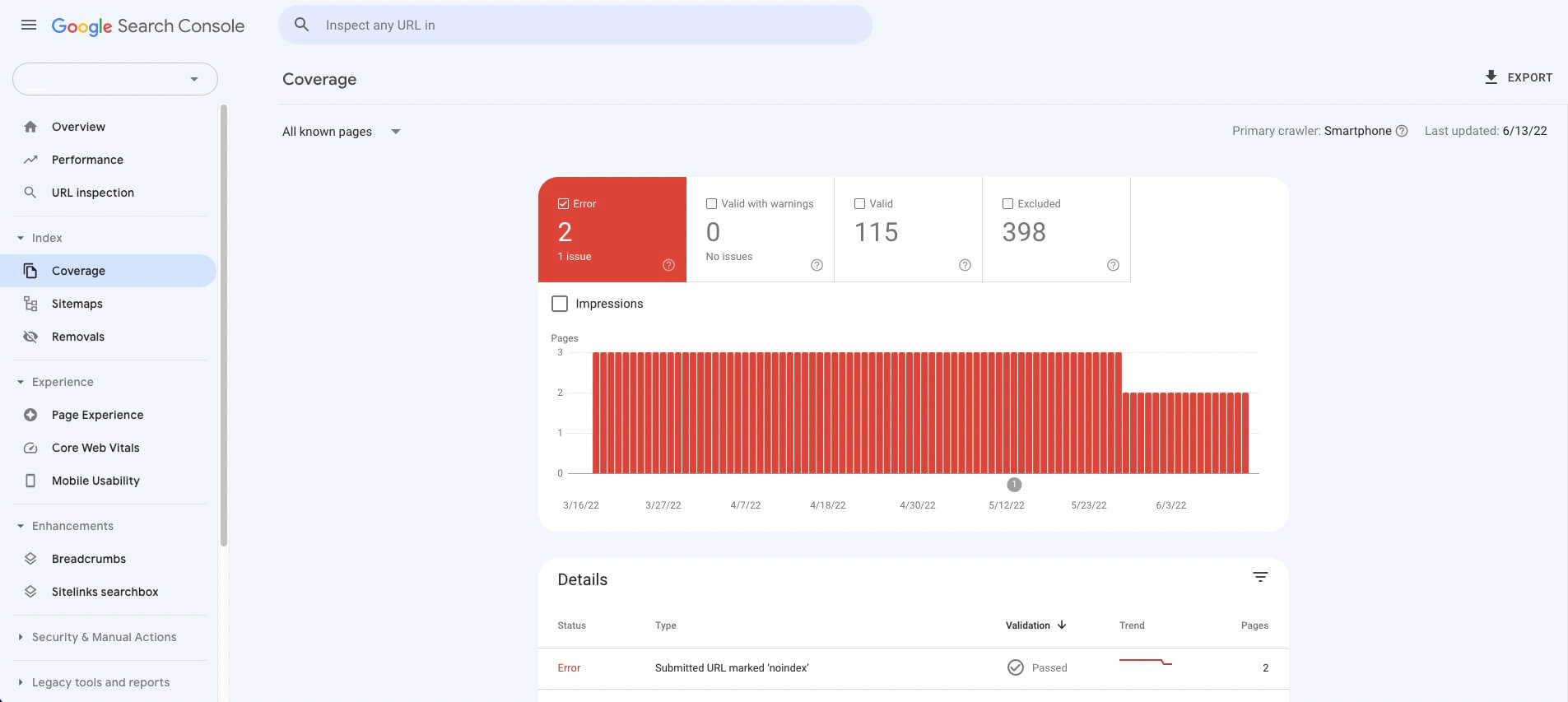 Experience
The Experience reports contain all of the data that Google uses to grade your site since its release of the Page Experience Update last summer. This includes the Core Web Vitals metrics and any mobile usability errors found by its Googlebot when they visit your page(s). For sites with low user traffic, this report may not contain any data. In that case, you can use the Lighthouse report within Google Chrome (in an Incognito window!) or our favorite GTMetrix.com to test for any page experience errors and improvements on your site.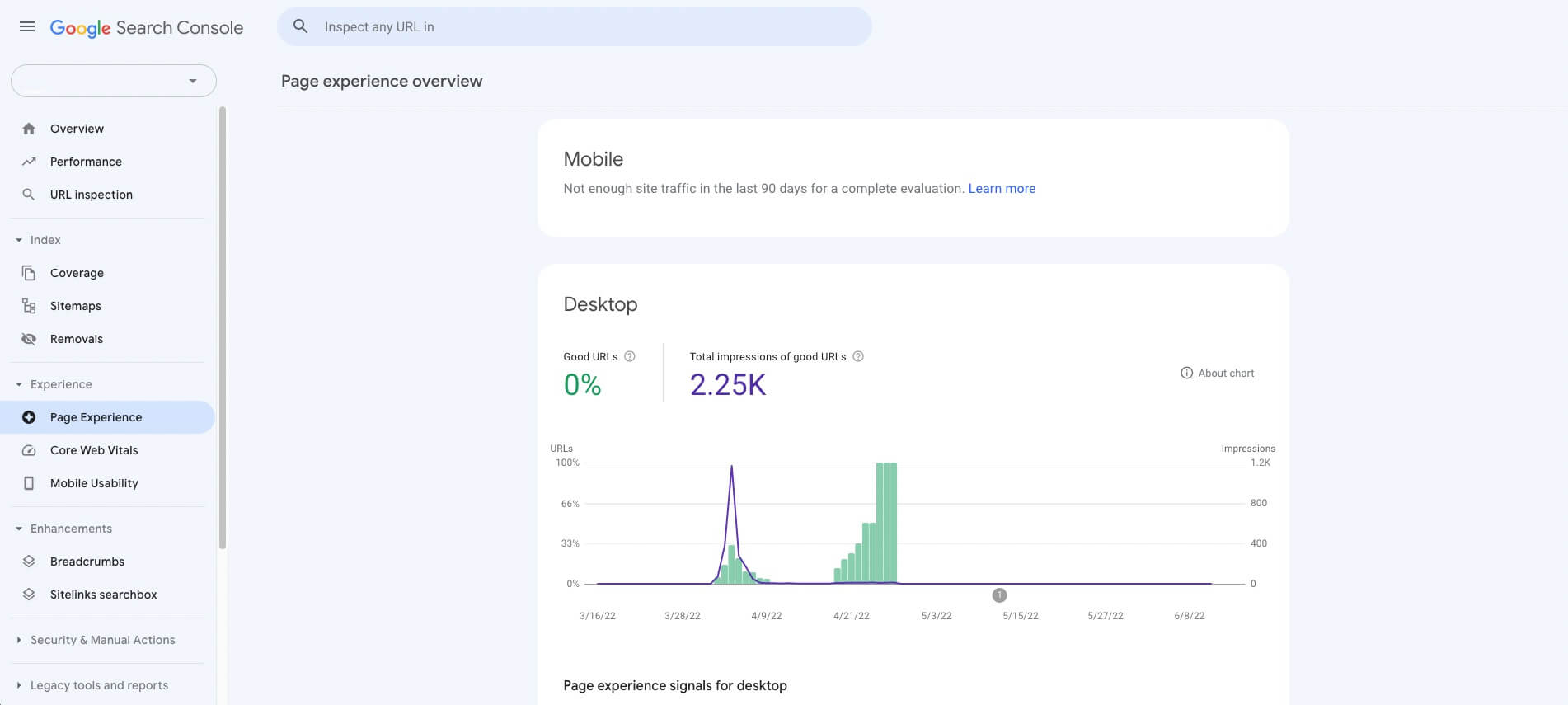 Enhancement and Security & Manual Actions
The last two reports are rare for tech marketers to venture into. First, If your site has structured data, then breadcrumbs or search boxes may appear on SERPs. In this case, you can view data within the Enhancement section in Google Search Console. Additionally, in the event that Google punishes your site (i.e., "manual action") or uncovers a significant security issue, that information will reside in the Security & Manual Actions section.
Google Analytics shares specific data about visitors to your website from all sources, including organic search
Google Analytics is a web analytics tool that provides detailed information about your website's visitors and traffic sources. Unlike Google Search Console, most tech marketers have a strong familiarity with the platform, so I won't dive into each report section as I did with Google Search Console above. You can also check out some of our past blogs on Google Analytics, including mine that highlights advanced tips and an in-depth guide to event tracking.
Now, most tech marketers are comfortable using Universal Analytics (UA) properties. While Google is sunsetting UA next summer and ushering in Google Analytics 4 (GA4), the new iteration contains very similar reports. Tech marketers can gain insights into how users access their sites via GA4's Acquisition reports and how users engage with content with GA4's Engagement reports. For eCommerce installations, GA4 is intelligently built to better track purchases with its new Monetization reports. GA4 also brings over the cohort reports first introduced in UA with its Retention reports, along with demographic and tech device information.
Change from UA to GA4
The biggest changes between UA and GA4 relate to how the properties track data. UA relied on a session-based measurement model, while GA4 uses an event-based model. GA4 has a native ability for cross-device and cross-platform tracking, while UA lacked in this area. Lastly, GA4 has more robust machine learning that operates in the background to help with data discovery and modeling. As such, comparing data between UA and GA4—especially if you use both on your website currently—will never be an apples-to-apples comparison.
An invaluable addition to GA4 that will aid tech marketers is the out-of-the-box tracking of events on websites, many of which we saw marketers add manually in UA properties! These events include:
Clicks
File downloads
Scroll tracking
Video plays
View search results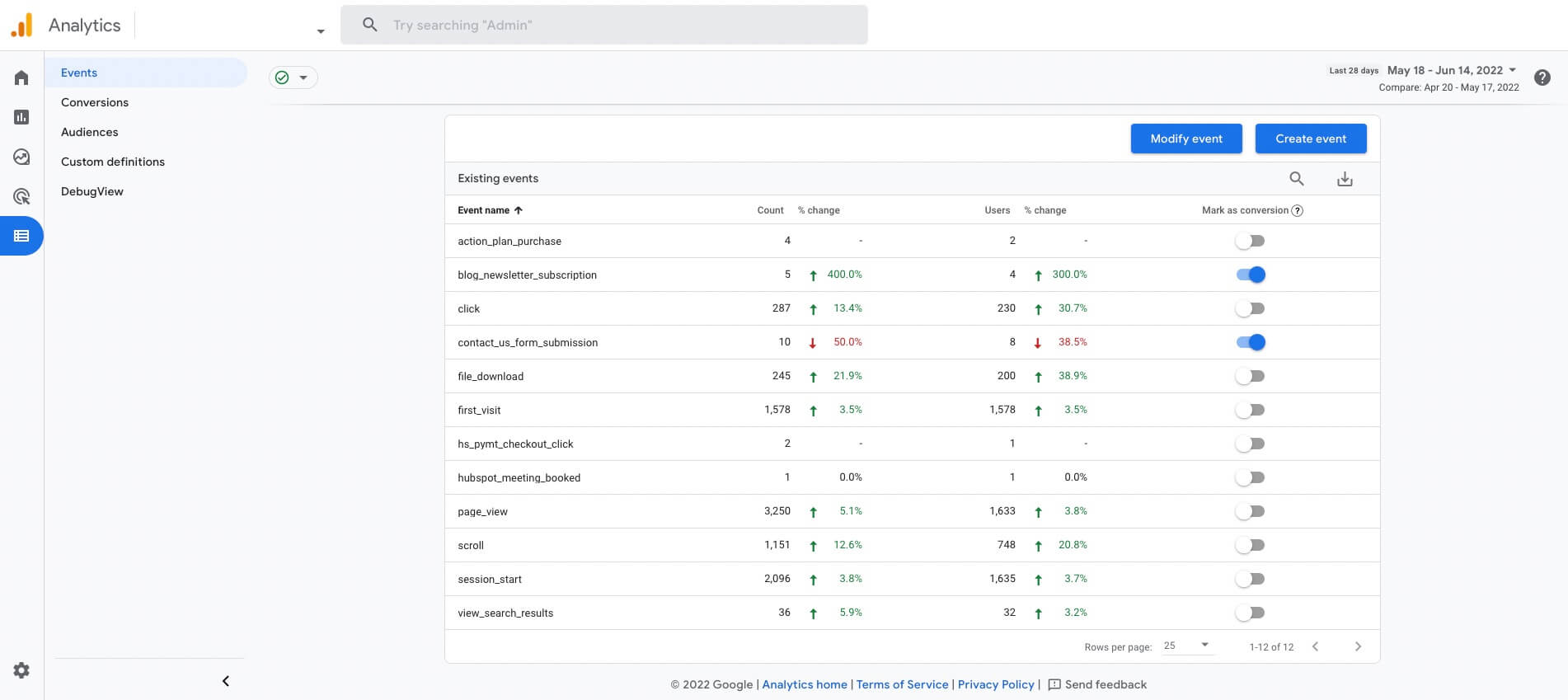 Google Analytics and Google Search Console are complementary tools you should use in tandem
Google Search Console and Google Analytics are two complementary tools tech marketers can use to discover insights about their website's content and performance on organic search. Here's how they differ:
Google Search Console is specifically for SEO purposes. It gives publishers data about their sites' performance in search engines like crawl errors, indexation status updates and suggestions for improving page speed scores (which can increase rankings). In other words: If something is wrong with your website structure or coding, GSC will help alert you to these issues so you can fix them before they negatively impact search engine rankings or negatively affect user experience on those pages.
Google Analytics is a free tool that tracks users' engagement with your website's content, including visits, conversions and more. You can use it to measure the results of all your marketing efforts (including SEO). As a result, this tool provides insights into areas like user demographics and traffic sources so that you can make informed decisions about what type of content to create next.
Here's a helpful rule of thumb: Google Search Console tells the story of users on Google Search before they reach your website, while Google Analytics tells the story of all your website's users once they reach your site.
While there's no doubt that Google Search Console is invaluable for your SEO efforts, it's not the only tool you should use. Google Analytics can help you understand how people are finding your site and what they do when they get there, both of which will help you determine if any pages need to be improved to capture more traffic. The tools work together well and complement each other, so I recommend using both Google Analytics and Search Console.