Can't afford an expensive sponsorship at a tech trade show or event? Hop on the free promotional bandwagon by participating in social media instead. Chances are your tech or software company has posted at least one generic "come visit us at booth #735" message in the past, but here are seven tips to get more creative and interactive with your social media use…all with the goal of upping engagement and driving those leads to your booth.
1. Start Early
Build excitement before the event by posting a few weeks before it officially starts. Let the world know you're going to be there and encourage them to register as well. Post a teaser of your swag coming back from the printer or your booth getting packed for shipment. Shoot a live video of you walking through the airport when you land the day before the event. You get the idea.
2. Tag Everything
Most trade shows will have an official hashtag; memorize that bad boy because it should be included in everything you post. Since the majority of your target social audience won't be following your account already, this is the only way for them to know that you're posting about a shared interest.
Have some extra characters to spare? Go ahead and tag the @tradeshowname instead of simply writing it in plain text. After all, tagging the event organizer might just earn you a reshare from their own account.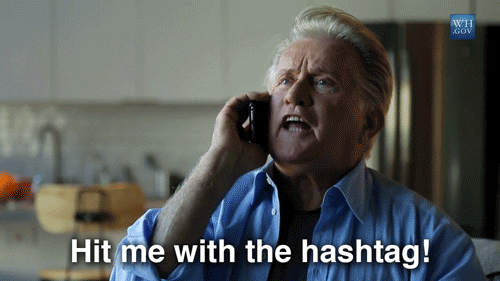 3. Make it Personal
Don't just stick to your company's social accounts: use the power of your personal network, too. Filter your LinkedIn contacts by geography and reach out to local people to see if they'll be at the event. Even if they answer "no," that's okay…you'll be arriving a day early and would love to grab coffee, right?
4. ABH (Always Be Helping)
Listen to me carefully: every social post does NOT have to contain your booth number or mention your iPad giveaway. We get it. You're a business. You're trying to sell stuff. Don't shove it in our faces. Instead, use social media to participate in the bigger conversation around the event.
Are you a conference vet? Answer questions from first-timers on Twitter about the best restaurant in town or the best place to park at the venue. You can also be more proactive in your approach, suggesting meet-ups or an impromptu happy hour for people flying solo.
5. Compliment Others
Tag the speaker whose session you loved. Post a photo of the coolest promo item at your neighbor's booth. Give kudos to the event organizer for such a good conference. Social posts that suck up just a tad will get liked and reshared, thus amplifying the content beyond your original reach.
6. Take Photos/Videos
Smart social marketers know that a compelling photo or video will get much higher engagement than a text-only post…so get those cameras ready!
The tried n' true selfie in front of the conference logo is a good place to start, but don't be afraid to get more creative. How about a time-lapse of the traffic in front of your booth? Or a photo collage of the best swag you've found at other booths? All are better options than a dimly lit shot of a presenter with some guy's head blocking your view…you know you're guilty of taking that one in the past.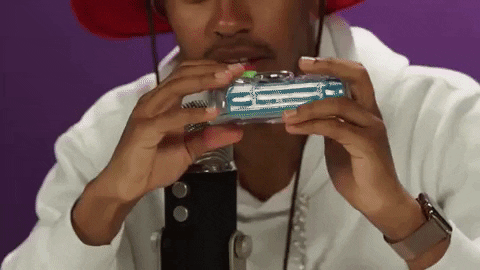 7. Create a Contest
Scavenger hunt, anyone? Have a premium prize available at your booth for people who complete a photo challenge. (And post the results on social media while tagging your company, of course.) For example, you can ask participants to complete a handful of these fun tasks:
Find someone with the same outfit and snap a pic
Take a photo of your favorite speaker autographing your program guide
Strike a pose in front of the main stage and record the moment
Collect eight different logo pens from booths and take a pic
Find the most unique piece of swag and hold it up in front of that company's booth
If that sounds too complicated, simplify things and give out a prize to the first ten people who stop by your booth with the secret code word you posted about on social.
____
Beyond posting promotional messages about your company, be sure to add value to the conversation, too—follow the event's hashtag yourself and respond to others who are discussing the trade show! Immerse yourself in the experience, participate and add value (e.g., answer a newbie's question about the best hotel to stay at, like a speaker's post about their keynote address, retweet a promotional giveaway for another [non-competing!] vendor, etc.)
To learn more about how you can make the most out of your trade show strategy this year, check out our "The B2B Sales Enablement Guide for Your Next Tech Trade Show".
Want to get something on the calendar now?
If you need help with your digital trade show strategy or need a super awesome booth design, schedule a free consultation today with one of our experts.