As we've been checking in with our clients and colleagues in the tech industry, we keep hearing the same thing: "How should we communicate in the midst of the Coronavirus crisis?"
While the exact message will be unique to your industry and your audience, the common thread should be empathy—the type that listens, the type that helps, the type that leads. So how do you apply this customer-centric concept to your sales communications?
Start at the beginning and make a plan. Here's how:
Listen to your customers to understand their perspective.
Organize their feedback into mindsets to better understand how to communicate with them.
Work with your marketing team to create content so you can be helpful instead of just trying to close a deal.
Create a communication schedule to organize your content and channels.
Distribute content to serve the needs of your customers and prospects.
1. Listen to your customers
When planning customer and prospect outreach, it's easy to forget that communication is a dialogue. Before you start pushing content, talk to your customers. This will help you tailor communications to them by first determining their mindsets. Ask questions such as:
Are you and your family well?
How are you and your team coping with the crisis?
How is your business affected?
What are you most concerned about?
What changes have you had to make to your marketing plans?
Are you continuing with sales outreach?
2. Organize their feedback into mindsets
We practice what we preach at Kiwi Creative and have developed our own crisis mindsets…three to be exact. These provide an example of how simple your mini-personas can be.
Panic aka Survival Mode
They are panicked because their marketing plan is blown to pieces (e.g., lots of trade shows).
They are paralyzed and can't concentrate or move forward.
They may also be experiencing budget cuts or company layoffs.
They need help determining the next steps and how to communicate with their audiences.
Plan aka Getting Prepared
They will have some extra free time, especially those who will have to go into home isolation.
They have been directed to and are willing to use any downtime time to prepare for when the crisis ends.
They need to be advised to use their downtime to review their marketing strategy and redefine their messages.
They may be able to take advantage of free or low-cost options.
Persevere aka Business as Usual
They realize they need to keep going, adjusting as necessary, to stay on top.
They have likely been proactive and have messaging and outreach plans in place. If not, they are actively seeking guidance or support.
They may need help executing plans.
They may be open to engaging external vendors for larger scope projects or retainers.
They need to be advised to shift from traditional marketing messages to instead communicating how they are helping or how they can help.
3. Work with your marketing team to create content
Has your marketing team been busy creating content to help your prospects and customers during the crisis? If not, a gentle nudge wouldn't hurt…especially if you volunteer to write a blog post or two to help the cause.
Here are some ideas to share with the team, all in the spirit of true sales enablement:
Write blog posts
Combine multiple blog posts into a downloadable content offering, like an eBook
Feature new content on a resources landing page
Put a drop-down alert banner on your site directing people to your new crisis resources
Set up retargeting ads for people who have visited any crisis-focused page on your website
Adjust messaging on your website's chatbot
Set up an RSS feed to automatically send people new blog updates
Install an exit-intent pop-up form asking people to sign up for the RSS feed
Etc. etc. etc.
4. Create a communications schedule
Don't blast your entire email database with a one-time, mile-long email of resources created by your marketing department. Instead, strategically plan how you can reach out to prospects in a regular cadence. For example, you could send a(n):
Short survey to gather input for a new blog article
Offer for a discount or free upgrade (not too drastic!)
Weekly round-up of the top three blog posts
Calendar link to schedule a complimentary phone call with one your product experts
New eBook without them having to fill out a gated form on a landing page
And don't just rely on traditional text-only emails…there are lots of channels and formats to pick from. For example:
Write a LinkedIn article
Post/comment/share on your personal social accounts
Embed a video of yourself in your email messages
This content outline and timeline is a pivotal piece that takes many forms—bulleted lists, spreadsheets, task management tools. Use whatever helps you and your tech sales team stay organized as you draft and send approved messages through the determined channels.
5. Distribute content according to your plan
Now you're ready to spread your message of support and helpfulness. This is where the rubber meets the road: if you listened to your customers upfront, soon you'll have a well-served broader group of contacts.
That said, don't judge the success of your outreach (at least immediately) on new deals generated during the current climate. A new benchmark study by HubSpot found that "the weekly average of deals created decreased globally by 17% the week of March 16, and fell by 23% by the week of March 30, when compared to prior global averages for those weeks."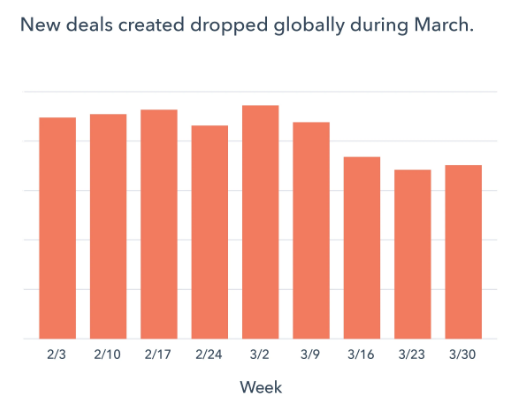 HubSpot also found that "on a per-week basis, companies sent 23% more sales emails the week of March 16 compared to prior weekly averages in Q1. The response rate to those emails began falling the first week of March, with a total decrease of 27% in March compared to February."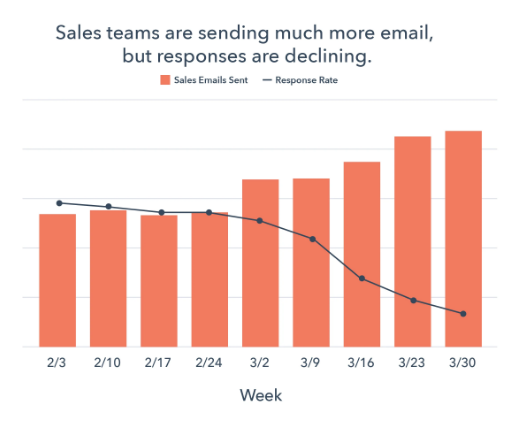 In better news, HubSpot also discovered that the "average marketing email volume increased 29% the week of March 16, while open rates increased by 53% the same week. Across the month, open rate increased by 21% overall."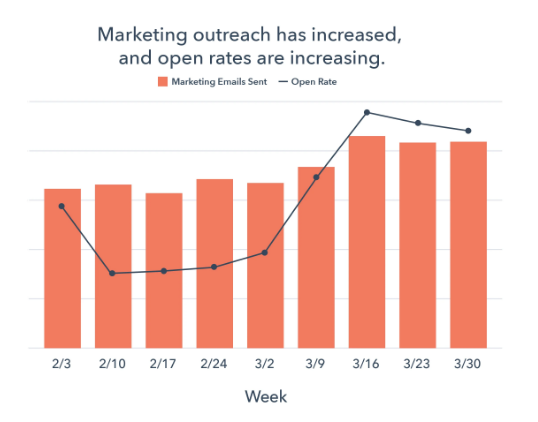 Moral of the story? People don't want to be sold to during this crisis…they want to be helped. Shocker, right?
At the end of the day, a crisis communication plan isn't really that different to how you should already be approaching sales at your tech company: listen, then help. Now is not the time for the hard sell…it's the time to establish yourself as a leader in the industry. Taking this long-term approach will pay dividends when the market returns to normal.