Your sales team, just like any other team or member in your company, are crucial to the success and outcome of the company. They reel in customers and seal the deal. They are normally motivated by commissions, bringing in new business and keeping the loyal customers you already have. So, when they lose their motivation it affects the company too.
How do you get that mojo back?
As much as managers and sales leaders feel that it is their duty to guide the sales team to sell, a lot of that "mojo" comes from individual motivation. Your sales team needs to want to sell and there are ways for you to help facilitate those motivations.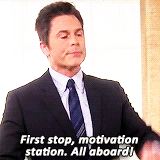 Align the sales team with company objectives
Your company has goals and objectives to hit throughout the year. Your team is probably familiar with them, but do they understand how those objectives fit into what they are doing for the company and the clients? Fully understanding the expectations and how they fit into each category as a team member, and an individual gives people a sense of personal investment and becomes a driving force to continually perform successfully.
Find ways to connect and engage with your team
Traditional ways of getting sales teams motivated involved a "push and pull" concept to keep them moving when they aren't hitting expectations anymore. The work starts slipping so you step in and start pushing them back into motivation again.
But what's more effective is coaching, measuring, adapting and exploring with the sales team.
Coaching the team through road bumps and how to avoid them for the future.
Measuring their performance on a tangible level they understand to get their numbers higher next time.
Adapting to the different selling styles everyone has.
Exploring different paths for each member to fit into these steps as they grow in your company.
Take advantage of sales enablement
Sales and marketing are used to working as separate departments and not "interfering" with each other. But, with sales enablement, these departments have to learn to work together or lose potential customers. Getting your sales and marketing departments to work together on getting leads through their purchase journey will not only help the sales teams but also develop a stronger relationship with marketing and sales that wouldn't have been as easy to form as before.
Not sure your team will be on board with this idea? Check out our blog on Selling Sales on Sales Enablement.
Continue to "check-in"
Keeping up-to-date with your team as they work through projects and problems is given in any company. What's crucial is understanding the "checking in" is more than just peaking your head in and asking if everything is going good. It also takes updated necessary training and a lot of the aspects I mentioned about connecting with your team earlier in this post.
When motivating your teams, especially sales, it's important to find the difference between guiding them and just pushing them in the direction you want them to go. One is a more helpful attitude and the other is a "here, just do this" attitude. Along with their own intrinsic values to stay motivated, your genuine guidance will give them that extra "oomph" when they are feeling sluggish in their job.